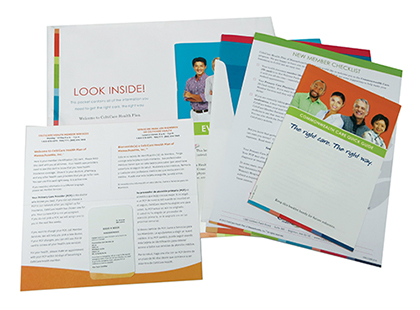 Beyond Lettershop
Our team of experts will work with you to develop customized, integrated marketing campaigns from inception of the idea through execution of production. We will Utilize all marketing channels, from print to direct mail and digital media.
Direct Marketing Campaign Management
Developing a successful channel direct mail, email and/or digital marketing campaign is the result of a well-formulated strategy. Our direct marketing services include marketing strategy and campaign development, along with focused results tracking and evaluation. We are committed to helping you create a successful marketing campaign for your products, services, or industry to generate results.
Dimensional Mail
When you combine all of WebsterOneSource's services; printing, diecutting/finishing, mailing, and list research/acquisition, you can create direct mail pieces that really break from tradition-they are targeted, personalized, interactive, and multi-dimensional. Combine one more of our services and add a third dimension to your direct marketing, making it creative, unique and memorable.
PURLS
Consider a Personalized URL (PURL) to combine direct mail with web click-through engagement.  We make it easy to reach customers with custom coding and print-on-demand solutions.  WebsterOneSource provides you with the power of personalized direct mail integraded with direct web based marketing.
Track N Trace
After your mailing drops, Track N Trace collects step-by-step delivery information from postal facilities on the piece's delivery paths and maintains that data on a secure Web interface.  Reports can be generated or downloaded at your convenience.  Closely monitoring the progress of your mailings will help you gauge delivery effectiveness and predict future performance.
HIPPA & WebsterOneSource
WebsterOneSource recently completed a rigorous audit of our data security and plant operations.  As a result, we are now considered to be HIPAA (The Health Insurance Portability and Accountability Act) compliant.  This is an ongoing process, therefore we must continually improve and update our security.  We have the security processes in place to handle data from organizations that maintain Protected Health Information (PHI).  We follow the ISO 27001 standards for the framework to create our data management system.
Rest assured, your data is safe and secure.  Our HIPAA compliance raises the bar on our data security and is in place for all of our clients, even those who do not fall under HIPAA guidelines but are generally concerned about their data. 
State-of-the-Art Technology
WebsterOneSource has the sophisticated technology and resources to handle virtually any mailing challenge.
Inkjetting:
2013 KR NetJet / (2) 1.5" print-heads / 600 dpi, matched with KR 215 base, Research dryer & KR 314 Shingle conveyor
Scitex 5120 inkjet / 1" print-head / 240x480 dpi matched with KR 215 base, Research dryer, KR 535 tabber & KR 314 Shingle conveyor
Buskro 460HP / (2) 1" print-heads / 480x480 dpi matched with BK 400 feed base, Research dryer, BK 730 tabber & Buskro shingle conveyor
Labeling:
Label-Aire 2111m Blow Labeler Label Applicator
Accufast XL labeler with stamp affixer
Inserting:
(2) Pitney Bowes Insert-a-max 4 station inserters
Custom Capabilities:
Robatech RO Concept 2 head / Hot glue system
KR 203P Attaching system & Inline folding
KR 215 Feed Base
KR 203P swing arm / suction affixing head
STS 4 head hot glue system
KR 219 RSF Plow folder / register-score-fold system. Right & left plow folding inline
KR 314 Shingle conveyor